Episode #120: Daniel Disney
Don't Stalk Your Customers!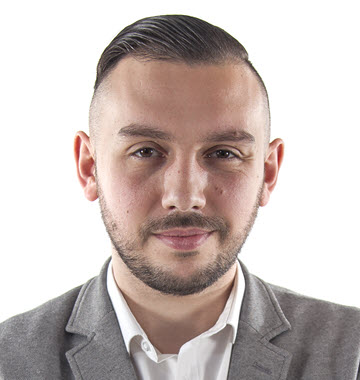 MEET
Daniel Disney
Daniel Disney has been called the real king of Social Selling, with an audience of over 450,000+ followers and millions of pounds of sales generated via social selling, Daniel is now on a mission to help as many people as possible leverage social to its full potential to sell.
• [01.01] Dan defines Social Selling – as any form of selling or sales activity that utilises or includes social media.
• [01.25] Why haven't some companies embraced social selling –Dan feels that it is because it is a change and change isn't easy. In sales we've been doing cold calling and other traditional sales methods for such a long period of time that integrating something that is still so new such as social selling is going to take a few more years before it becomes as common practice as other methods.
• [02.32] Which social media platforms should a modern sales professional be active in – It's whichever social media platforms their prospects or customers are using.
• [03.04] Are there any tools that you recommend as part of a successful social selling strategy – Dan shares that one of his most crucial tools he uses at present is Auto-Scheduling, which helps to make sure that his social presence is consistent by creating and scheduling content on a regular basis. Dan has also used Buffer and Hootsuite.
• [03.56] Dan shares his top three social selling do's and don'ts – Do's – be consistent, if you want to get results from social selling you have to do it regularly and consistently to get the best possible results. Do be you – show yourself as an individual be authentic, and do learn how to do it properly –learn from the great thought leaders, watch their videos, read books and absorb their content on how to sell on social media properly. Don't over advertise or over promote – Dan recommends using the 80/20 split, 80% give value, 20% promote. Don't spam – especially cut and copy LinkedIn messages, and lastly when you research your customers don't call it 'stalking' – 'researching' sounds more professional and positive!!!
• [08.06] Dan shares his favourite social selling story – Dan shares a success story of how he turned to LinkedIn after his traditional methods of selling were unsuccessful. Commenting on his prospects posts, led to messages, which led to meetings and eventually led to one of his biggest sales of his career.
• [10.14] What advice would you give to a CEO who hasn't leaped using social selling –Dan advises that CEO's should look at what their prospects are doing, what their existing customers and equally what their competitors are doing and get started as soon as possible.
More About Daniel
What was the last book you read?
The Extremely Successful Salesmans Club by Chris Murray (for the 3rd time!)
Who / What inspires you?
Simon Sinek is one of my biggest inspirations. I'm inspired by the opportunity to help a lot of people by doing what I do.
What aspect of your own Social Selling program are you most focused on improving at the moment?
Measuring results. It's difficult with platforms like LinkedIn protecting a lot of their data to find easy ways to properly analyze results.
Hobbies, Interests?
Time with my kids, watching films and the UFC
How can our listeners contact with you?
Best way is to follow me on LinkedIn – linkedin.com/in/danieldisney(I can't accept any more connections unfortunately)