Episode #130: Jay Heinrichs
Everybody Wins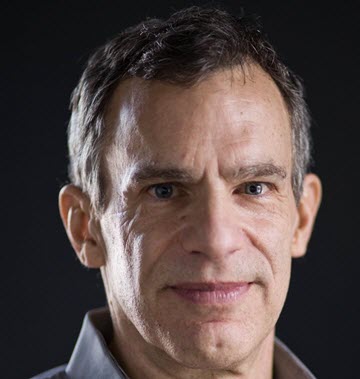 MEET
Jay Heinrichs
Jay Heinrichs is a persuasion expert. He is the author of the New York Times Bestseller 'Thank You For Arguing – What Aristotle, Lincoln and Homer Simpson Can Teach Us About The Art Of Persuasion'. Among his many clients are South West Airlines, The Wharton School of Business, Harvard and NASA. Jay's latest book 'How to Argue With A Cat' teaches us how to argue logically, hack up a fallacy and master the art of fitting in.
[01.03] Jay defines Negotiation – as the art of making neutral decisions where ideally everyone feels like they won and where a long term relationship results from that.
[01.26] Jay explains how negotiation is important for business – business depends on deals, but also negotiations within teams getting people to get along. Every aspect of business depends on negotiations not just sales.
[01.54] Why don't some salespeople don't like to negotiate and what can we do to change this – Jay feels that salespeople want to be liked by their clients and customers and hate confrontation, but negotiation doesn't have to be confrontation by using the tools of rhetoric, the art of persuasion makes all the difference.
[02.47] How do you plan and execute a high stakes negotiation – Jay shares that he shows clients how to persuade. The main point is don't focus on you, the preparation and the persuasion have to focus on what the other side wants and needs, that's the narrative, beyond that you start to talk about money, which is another type of negotiation.
[03.52] What are the attributes of a good sales negotiator – Jay feels that one attribute we all need more of is sympathy, being able to get into the head of the other side. Some of the best negotiators have been introverts, they talk less, observe more, they look into the others heads and they put more energy into understanding the other side.
[04.40] Are there any negotiation tools, tactics or strategies to help negotiate – Jay shares The Lure and Ramp from Aristotle – making the outcome seem irresistible, then come up with the ramp by taking a small step asking them to watch a video, or look at a link, then add another step to ramp up to the eventual decision.
[11.56] Jay shares his top three negotiation Do's and Don'ts – do understand your audience and try to love them, do present yourself as a problem solver and third do is to simplify, simplify and simplify – the simpler the message the more they will understand it. Don't make it all about you – it's about the other side, their needs, beliefs and expectations. Don't treat a far out negotiating point as a threat – see it as information. And lastly don't look too eager – what you should be eager for is the benefit of the other side.
[13.34] Jay shares his favourite negotiation story – where he once walked out on a multi million dollar negotiation with a fortune five hundred company over a content deal which would harm the company's employees rather than helping them, after feeling like he had lost the deal Jay walked away with a more expanded deal.
More About Jay
What was the last book you read?
The New Testament, translated by David Bentley Hart. He's a scholar of Ancient Greek who produced what may be the most literal translation for the modern reader. Why care? Because even our daily speech gets reinterpreted. A great exercise for a salesperson would be to look at various Bible translations on the web; lots of sites compare translations side by side. Now think what happens when your words enter the ears of a client or customer. What's going to come out?
Who / What inspires you?
Teachers. They're our most underrated professionals. I do Skype-ins with high school classes a few times a week, and seeing those teachers in action gives me hope for the future. I wish I could personally double the pay of every good teacher. But then, aren't we all teachers? Isn't great sales a form of teaching?
What aspect of your own Social Selling program are you most focused on improving at the moment?
I'm working on developing my presence in sites I've largely ignored in the past—including Linked In, Quora, and Goodreads. I'm finding those sites give me a much better response than Twitter, FB and Instagram.
Hobbies, Interests?
I'm an outdoor guy, living on 150 acres in rural New Hampshire, passionate about trail running, hiking, and Nordic skiing. Last New Year's Eve I badly broke my leg. I've been using the reframing techniques I teach—on myself. The doctor says my recovery is a good two months ahead of schedule.
How can our listeners contact with you?
Best way is through my website, jayheinrichs.com. Also can be found on all your finer social media places: @jayheinrichs.