Episode #205 – Melissa Madian
Why You Must Maintain Healthy Tension in the Negotiation Process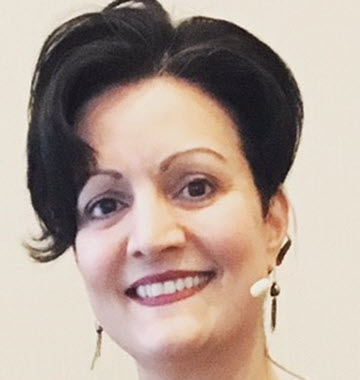 Most salespeople can naturally sense tension but are wholly uncomfortable with it. But healthy tension in negotiation is a normal part of the process that salespeople should embrace. According to today's guest—Melissa Madian—healthy tension is critical to the success of a negotiation. In this episode of Sales Reinvented she talks about how it influences a negotiation and brings value to both parties. She emphasizes understanding the value you offer and holding firm. To benefit from her years of expertise in the field, listen to this episode!
Melissa Madian is the Founder and Chief Fabulous Officer at TMM Enablement Services Inc. She was one of the first people to pioneer the Sales Enablement role and has spent the past 25 years perfecting the sales experience for revenue-generating teams. Melissa is one of the 15 Top Sales Influencers to Follow in 2020, one of the 20 Women Leaders to Watch in Business in 2018 and ranked 10th of the 35+ Most Influential Women Leading B2B Marketing Technology.
Why do you NEED healthy tension in the negotiation process? Find out from @MelissaMadian in this episode of @SalesReinvented! #SalesReinvented #Sales #Negotiation #NegotiationTactics #Tension #Influence
Click To Tweet
Outline of This Episode
[1:10] Capture value while maintaining healthy tension
[1:38] Negotiation abilities impact profitability
[2:47] Negotiation is the entire sales cycle
[4:10] Melissa's negotiation process
[5:34] A salesperson can't be afraid of conflict
[7:16] Negotiation tools, tactics, strategies
[8:12] Melissa's top 3 dos and don'ts
[10:42] Why you should always present two options
The inaccurate perception of negotiation
In this episode of Sales Reinvented, Melissa Madian points out that there's a perception that negotiation happens at the end of the sales cycle. That when we get to that point it's time to put our gloves on and fight it out. Instead, she emphasizes that you're always in a state of negotiation. There's always a balance of give and get. It's not you versus your customer.
It's about answering the question: How am I going to make sure we get value and the seller maintains value? In order to do so, you must maintain healthy tension. Melissa's definition of negotiation is that simple: It's capturing value while maintaining healthy tension.
Maintain healthy tension in the negotiation
Melissa references a McKinsey report in which they shared that for every 5% that we discount our solution or product, 19% of the profit is lost. So when discounts are given because a salesperson would rather concede than operate in tension, all of your value leaks out of the negotiation. It also undermines your position as a valued vendor.
Melissa notes that you need to go into the negotiation with a plan in place and determine what value each party needs to get. Then you need to decide what kind of healthy tension will you maintain in the negotiation so you don't give up too much—but acquiesce when necessary. It always comes down to: What value am I providing to the customer? 
How do you maintain healthy tension in a negotiation? Find out from @MelissaMadian in this episode of @SalesReinvented! #SalesReinvented #Sales #Negotiation #NegotiationTactics #Tension #Influence
Click To Tweet
Be a personal trainer NOT a bartender
Melissa uses a wonderful analogy of a bartender and a personal trainer. She points out that there is no negotiation process with a bartender. You pay them and they feed you endless drinks until you're drunk. There is no healthy tension, no give and take. The bartender gives and gives, and you take.
Instead of being a bartender, you must negotiate like a personal trainer. A personal trainer pushes you towards your goals. At any given time, there might be a lot of conflict in the relationship because they're pushing you to be better. The balance of the relationship is a healthy tension where both parties are pushed towards the same goal.
Hold firm to the value you provide
Melissa emphasizes that good negotiators don't roll over, they curate healthy tension because they know they're offering something of value to their customer. You must first know the value of what you're providing and then hold firm to the value you're providing so that you don't lose profit and you maintain your credibility.
In order to know the value you're providing them you must do your research. You know to know your customer, understand their pain points, and recognize how your product or service is making a positive impact on their company. You must research the potential roles that may get involved, objections that may come up, and do not allow yourself to be surprised by anything that crops up. Do not wing it or you will be blind-sided.
She also implores: Do not assume that the customer won't pay more money for what you're providing to them. Customers do not pay solely because an item is well-priced. They pay for the value that it offers them. If you maintain healthy tension in the process you are more likely to succeed. To hear the rest of Melissa's negotiation strategies and her favorite negotiation story, listen to the whole episode of Sales Reinvented!
Why should a salesperson hold firm to the value they provide? @MelissaMadian shares her take in this episode of @SalesReinvented! #SalesReinvented #Sales #Negotiation #NegotiationTactics #Tension #Influence
Click To Tweet
Resources & People Mentioned
Connect with Melissa Madian
Connect With Paul Watts
Audio Production and Show notes by
PODCAST FAST TRACK
https://www.podcastfasttrack.com
More About Melissa Madian
What was the last book you read?
Last book I read was "Behave: The Biology of Humans at Our Best and Worst". It's not a book on negotiation specifically, but it is a fascinating read about why we do the things we do from a neuroscience perspective.
Who / What inspires you?
I'm inspired by Walt Disney! His idea that if you can dream it, you can do it has always been something I live by.
Are there any aspects of your own productivity skills that you are working on improving at the moment?
Listening. 
Hobbies, Interests?
I love video games! Currently playing Detroit: Become Human on the PS4
How can our listeners contact with you?
LinkedIn, Instagram or Twitter.