Episode #274 – Lori Richardson
Why Your Mode of Communication Matters in Digital Sales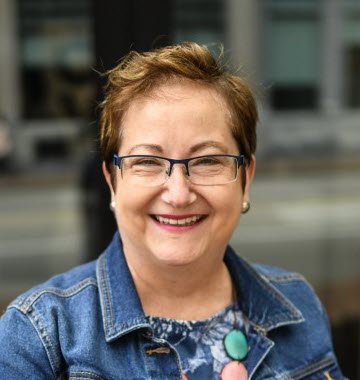 MEET
Lori Richardson
Lori Richardson is a world-renowned women in sales advocate, author of  "She Sells," and founder/CEO of Score More Sales, a sales strategy firm. 
Digital selling encompasses a variety of different communication channels. Whether it's via social media, texting, email, or video, a great digital seller has to be agile and willing to use whatever medium their prospects and customers prefer. Why is that so important? Lori Richardson shares her thoughts in this episode of Sales Reinvented!
Why does your mode of communication matter in digital sales? @scoremoresales shares her take in this episode of @SalesReinvented! #Sales #SalesReinvented #Communication #SocialSelling #DigitalSelling #Strategy #Text #Email #Video
Click To Tweet
Outline of This Episode
[0:40] The difference between digital and social selling
[1:56] How to improve digital selling
[2:40] Lori's digital selling mindset
[3:46] Attributes of a great digital seller
[5:01] Tools, techniques, and strategies
[6:35] Top 3 digital selling dos and don'ts
[9:42] Communicate how your prospect prefers
Attributes of a great digital seller
You have to be able to prospect digitally. You need to do value proposition work. You need to be able to connect well with people. Then you need to build your communication skills and tools to have ongoing conversations to build trust with your buyer. You must help them with services you offer—or don't. You want to help them in any way you can, even if it means referring a prospect to someone else.
Lori believes there are some key sales competencies that aren't based on personality that must be mastered. These traits help people sell more:
A desire and commitment to sell: Do you take responsibility? Do you have a good outlook? How motivated are you?
Consultative selling skills, selling value, and learning to avoid discounting.
Are you coachable and trainable?
These things are critical to successful selling.
Tools, techniques, and strategies to improve digital sales
Do you have a solid methodology and process in place? Are you engaging in tasks that lead to closing sales opportunities? There are thousands of tools available for marketing and sales success. Lori emphasizes you must master social selling and video, know how to follow prospects and clients on social media, and learn how to use fundamental tools like Sales Navigator.
What tools, techniques, and strategies does @scoremoresales recommend to improve digital sales? Find out in this episode of @SalesReinvented! #Sales #SalesReinvented #Communication #DigitalSelling #Strategy #Text #Email #Video
Click To Tweet
Lori's top tips for digital selling
What are Lori's digital selling tips?
Be genuine and authentic—it's more important now than ever.
Build your brand and gain visibility on different platforms.
Be consistent and follow-up with prospects with a clear process in place.
Don't do the spray and pray on social media. When you meet someone at an event, you don't sell to them immediately. Why do it with digital interaction?
You're in it for the long haul. You don't have to get a deal today, so don't push yourself on people. Sell products and services that you trust and believe in that add value for your buyers.
Always add value in every interaction with a prospect or current customer. If you do this every time, people will want to talk with you.
Communicate how your prospect prefers
Lori helped a company that had found her virtually and reached out through texting. By returning their texts, Lori answered enough questions that they felt comfortable having a phone conversation. The phone conversation led to Lori offering them some services. That turned into a solid six-figure deal. It all started with texting. They turned out to be a great client that Lori still works with today.
If someone emails or calls, Lori responds immediately. If you get back to people quicker, you have the highest chance of closing business. Even if you just schedule a time to talk further, people are blown away. Likewise, if texting is your client's preferred mode of communication, by all means, text them.
Why do you NEED to communicate how your prospect prefers? @scoremoresales shares a story to drive the point home in this episode of @SalesReinvented! #Sales #SalesReinvented #Communication #DigitalSelling #Strategy #Text #Email #Video
Click To Tweet
Resources & People Mentioned
Connect with Lori Richardson
Connect With Paul Watts
Audio Production and Show notes by
PODCAST FAST TRACK
https://www.podcastfasttrack.com
More About Lori Richardson
Are there any great Digital or Social Selling books that you highly recommend? I am a big fan of Julie Hansen's new book, "Look Me in the Eye – Using Video to Build Relationships with Customers, Partners, and Teams."
What do you most admire in the sphere of Digital or Social Selling and why? I admire the front-line sales rep, SDR, BDR, or AE who tries new ways to reach buyers digitally, learns as they go, and teaches others to better our profession. 
Are there any aspects of your own Digital or Social Selling skills that you are working on improving at the moment? We are working on more product-led paths for our own buyers. Some buyers want to buy and not wait for us to speak with them. That is new in the last couple of years. 
Hobbies, Interests? In my spare time I am working to get more women into B2B selling and in helping women rise within their sales organization. I also love to travel and watch ice hockey.
How can our listeners contact with you? Twitter, Instagram, and LinkedIn.