Episode #348: Lori Richardson
How to Build Your Business with Referrals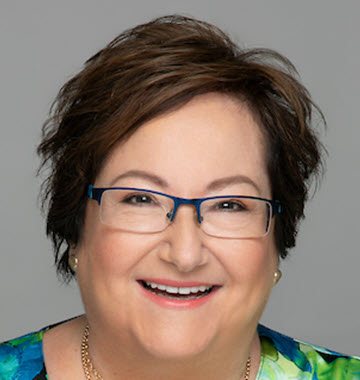 Lori Richardson
Lori Richardson is author of "She Sells: Attract, Promote, and Retain Great Women in B2B Sales", is a podcast host, and is CEO of Score More Sales, a sales strategy firm. She helps company leaders determine the health of their sales team through data around 21 core sales competencies and then coaches and trains them to higher revenues and shorter sales cycles. 
Our Mission Is To Change The Negative Perception Of Sales People
Our Vision Is A World Where Selling Is A Profession To Be Proud Of
Lori Richardson built her entire business around referrals. She believes that referrals are magical. You can work with one person and get multiple sales opportunities from that person. It's so much easier to develop a relationship this way versus focusing on one-off sales. Lori shares the strategies she's learned over the years in this episode of Sales Reinvented!
Outline of This Episode
[0:55] What are referrals? How do they work?
[1:44] Common mistakes salespeople make asking for referrals
[4:15] How to leverage social media to generate referrals
[5:56] Using referral-based selling as a sales strategy
[7:41] How to measure the success of a referral program
[9:44] How to ask for referrals without being pushy
[11:34] Best practices for requesting referrals
[13:00] Why you need to have three lists
[15:04] Lori's top 3 referral selling dos and don'ts
[17:04] Why relationships matter in sales
Common mistakes salespeople make asking for referrals
Salespeople come across as selfish or have an air of "You owe me" when they ask for a referral. That's why Lori's favorite approach involves asking for opportunities and layering it with appreciation and compliments. She always approaches referrals with a big-picture mindset.
The biggest reason people don't refer to people they know and like is that they don't understand what they do. Someone told Lori they didn't understand what she did, but knew enough to say "I think you can help this company." It's on you to let people know who you serve.
Best practices for requesting referrals
If you're new to the product or service you're selling, make a concerted effort to find services and products that are adjacent to what you sell. Get to know people in those areas and recommend them to others. When you do, they'll recommend you. Lori routinely reaches out to her connections to stay top-of-mind, so if they have someone to refer, they think of her.
Start at the very beginning with decision-makers. When you do business with someone, let them know that your goal is for them to be so happy with your services that they will happily send you referrals. It's planting the seed and setting the tone. Be clear that you grow your business based on referrals. Share that you enjoy working with companies like theirs.
To find out if your referral program is successful, of the opportunities referred to you, how many turned into sales opportunities? By tracking who sends what referrals, Lori can find out who is—or isn't—sending the right types of referrals. She can remind people of who isn't a good fit.
Lastly, if someone refers you business—whether or not it turns into a sale—at least send them a thank you note or a small gift.
Why you need to have three lists
Everyone needs to have a list of their customers who they follow up with regularly. Then you have a list of prospects that you reach out to close business with. You should have a third list: The strategic referrers list. 
Those are people that you follow up with monthly or quarterly who typically aren't customers. See what they're working on and connect them with whatever they need. Be available to build a relationship so they refer business to you when someone comes to mind who needs what you offer. 
Why relationships matter in sales
When Lori Richardson lived in Boston she happened to go meet a hairstylist from Ireland named Roz. Lori went back to her office and told her manager, Mary—who was also Irish—about her stylist. Her manager ended up going to Roz for a haircut. 
A year later, Lori moved away. When she checked in with the office manager, Mary had introduced Roz to her two sisters. 20 years later, Mary still gets her hair cut by Roz. That's what happens when you take a good relationship and share it with someone else you respect.
Learn More About Lori Richardson
Are there any books, podcasts, or classes on Referral Selling that you recommend? I like Joanne Black's blog as well as a couple of her e-books https://www.nomorecoldcalling.com/ebooks/ 
In the field of 'Referral Selling' – Who do you most admire and why? Bob Burg is the epitome of the "Go Giver" and has been a fantastic resource for many years through his books. Also Kendra Lee: https://www.klagroup.com/sales-training-programs/ask-for-referrals-training/
How can salespeople track and measure the success of their referral program? The same way they should measure other KPIs and understand the fundamentals of their business. Once I had a list within my target persona or target market, I'd track how many actual conversations I'm having compared to the amount of outreach. I'd track the deals to opportunities ratio, and the percentages at each step of the sales process.  
What are some common reasons why customers may not provide referrals, and how can salespeople overcome these obstacles? They were approached wrong, or they may have a current issue about what you sold them. They may not want to put the effort out – there are lots of reasons why. To overcome, discuss the idea of referrals from the beginning when your prospect becomes a customer. Make it easy for them, and build trust throughout the process. 
What is the difference between a referral, an introduction and a lead? A referral is when I endorse someone and connect them to someone else in need of their services. An introduction is me connecting you to someone else. I may or may not endorse this person – I'm simply connecting and getting out of the loop. A lead is someone who is in the market for a product or service, and has expressed interest in purchasing or at least has a known need for a product or service.  
How do you determine which customers to target for referrals, and what are some effective strategies for reaching out to them? Everyone is a potential referrer. For us it is a way of doing business. If we like someone we work with, we want other clients like them. It becomes a conversation.  
What are some potential risks or downsides to relying heavily on referrals for new business, and how can sales teams mitigate these risks? In order to set up a referral program, you have to have strong potential referrers or you need to create an easy way to get someone in an adjacent service to yours to give referrals. This takes some time to build trust and it is easier to start with working on repeat business from past clients who already know, like, and trust you.  
Finally, what advice would you give to salespeople who are looking to launch a referral program or improve their referral generation skills? Reach out and I'll share with them how to create their "Third List" referral program.  
Share This Episode, Choose Your Platform!