Episode #217 – Bill McCormick
The Key to Successful Lead Generation and Prospecting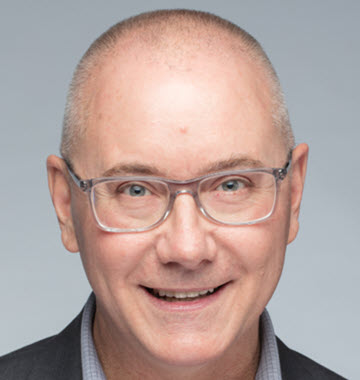 MEET
Bill McCormick
Bill McCormick discovered early on the power of LinkedIn as a lead generation and prospecting tool for the ad specialty company he began with his wife in 2013.  With only a handful of clients at the onset, Bill was able to leverage LinkedIn and social selling strategies he learned from some of the pioneers in social selling how to prospect effectively and grow their business.  His success led him to start his own LinkedIn training business in 2017 and join Brynne at Social Sales Link in 2018.  Now, Bill's passion is to take what he's learned and had success with and pass it on to sales leaders so they too can experience the power of LinkedIn and social selling.
What is the difference between prospecting and lead generation? How are they similar? How do your strategies need to vary with either approach? In this episode of Sales Reinvented, Bill McCormick shares some strategies to help salespeople nail lead generation and prospecting. If you're ready to take your skills to the next level—don't miss this episode.
What is THE key to successful #LeadGeneration and #Prospecting? @BillTeamCC shares his strategies in this episode of @SalesReinvented! #SalesReinvented #Sales #Persuasion #Influence #LeadGen #Leads #LinkedIn
Click To Tweet
Outline of This Episode
[1:35] The difference between prospecting and lead generation
[3:00] Why is lead generation and prospecting important to sales?
[3:39] The ideal prospecting and lead generation process
[7:08] The attributes a salesperson needs to embrace to find success
[8:19] Ditch the pitch: learn to provide both value + insight
[11:01] Bill's top 3 dos and top 3 don'ts
[13:35] Bill's story that proves timing really is everything
WHY a prospect and a lead are so different
Bill points out that lead generation and prospecting are both activities that you do. They can be very similar in that respect. But a prospect and a lead are quite different. A lead is someone at the tip of the funnel that's not yet qualified. They may not even end up being a part of the sales process. A prospect is someone who has been qualified. They've made it into the funnel. The bottom line? All prospects are leads but not all leads are prospects.
Bill also points out that lead gen happens very early in the process. It's being able to take a quick look at someone—and based on your ideal client profile—determine if they're going to make it into the prospecting category. Lead generation is all about lead qualification. Prospecting is about researching and moving the prospect along to the end goal of a sales conversation.
The ideal prospecting and lead gen process
Bill is quick to note that each sale in each industry can be different. But he shares some key components anyone can focus on:
You must cultivate an ideal client profile: You need to have an idea of who you're looking for. It will either help you qualify and move leads forward—or discard them. Once they've been moved into the prospect category, you must then determine the "who" and the "how." The "who" is composed of the decision-makers.
Secondly, you need to focus on how you will authentically nurture the relationship with a prospect to move them along your funnel to a sales conversation. When people are prospecting on LinkedIn, they are starting with sales conversations. Bill emphasizes that you can't do that. What do you do instead? Ditch the pitch.
What is THE ideal #Prospecting and #LeadGen process? @BillTeamCC thinks he has the answer. Find out what it is in this episode of @SalesReinvented! #SalesReinvented #Sales #Persuasion #Influence #Leads #LinkedIn #LeadGeneration
Click To Tweet
Ditch the pitch: provide value and insight
Bill shares another solid piece of advice: ditch the pitch. Bill leads by providing value and insight to nurture someone along the sales funnel. Don't lead with your solution—lead to it. He notes that it's hard to do because you believe in your product and service. But when you pitch, you sound like the adults in a Charlie Brown cartoon. No one listens.
He was recently on a call with a prospect and shared some insight with him. His prospect said, "Hey, you better stop, you're giving away too much." But that's exactly the way Bill wants it. He responded by saying, "Imagine what you're gonna get from us when you're working with us."
Bill goes on to say, "Remember the end goal is to have a sales conversation. We have to earn the right to have that conversation by providing value'and not by pitching." Bill shares some of the key attributes he believes a salesperson needs to succeed with lead generation and prospecting. Listen to learn what those are!
Bill's top 3 lead generation and prospecting dos and don'ts
Bill summarizes his top do's and don'ts for everyone to follow to find success:
Connect on LinkedIn with ALL of your clients. It makes for great prospecting potential down the road.
Make sure you have nailed down an ideal client profile and understand that everyone can't be your ideal client. You'll hit your best batting percentage when you're swinging at the right prospects.
Make sure you develop a way to nurture your prospects without pitching to them. How do you provide value and insight at each point of the funnel?
Don't use the LinkedIn Connect button as a cold outreach tool. If you pitch the whole way it falls flat.
Don't think in terms of closing a sale. You don't want commission breath. Think in terms of having a conversation.
Don't rush the process. Timing is everything. If we focus on valuable and insightful conversations, the sales will come when the time is right.
Bill shares a poignant story to drive his last point home—don't miss it.
In this episode of @SalesReinvented, @BillTeamCC shares his top 3 #LeadGeneration and #Prospecting dos and don'ts. Check it out! #SalesReinvented #Sales #Persuasion #Influence #LeadGen #Leads #LinkedIn #LeadGen
Click To Tweet
Resources & People Mentioned
Connect with Bill McCormick
Connect With Paul Watts
Audio Production and Show notes by
PODCAST FAST TRACK
https://www.podcastfasttrack.com
More About Bill McCormick
What was the last book you read?
Currently reading "5 Minute Selling" by Alex Goldfayn

Who / What inspires you?
Recently I'm obsessed with the "Selling from the Heart" podcast with Larry Levine & Darrell Amy and the "Craig Groeschel Leadership Podcast"- both inspire me in different ways and in different areas of my life.
Are there any aspects of your prospecting and lead generation skills that you are working on improving at the moment?
Fine-tuning my ideal client profile so that I'm getting in front of more 'highly likely close' clients.
Hobbies, Interests?
We're buying a house presently so home remodeling is high on the list!
How can our listeners contact with you?
email bill(at)socialsaleslink.com. Connect with me on LinkedIn – please send a note telling me you heard me here!