Episode #287 – John Smibert
How to Apply the 80/20 Rule to Territory Planning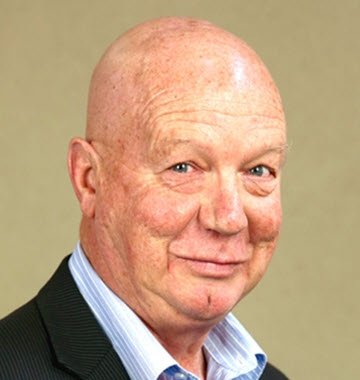 MEET
John Smibert
John Smibert is a best selling author of the award winning sales novel The Wentworth Prospect. He invested 40 years in sales leadership in technology industries. John is an innovative thinker with regard to all things B2B sales.
The top-performing salespeople understand the importance of territory sales planning. They know that if they create a plan and work the plan they'll outperform their peers. But John Smibert believes that a strategic plan applying the 80/20 rule is. He fleshes out what that could look like in this episode of the Sales Reinvented podcast!
In this episode of @SalesReinvented, @johnsmibert shares how he applies the 80/20 rule to territory sales planning—don't miss it! #SalesReinvented #Sales #TerritorialSales #Planning #Strategy
Click To Tweet
Outline of This Episode
[1:05] Why planning is an underrated activity
[2:25] Stop being reactive and create a plan
[3:55] John's ideal territory sales plan
[6:50] The right mindset is key to success
[7:53] Tools, tactics, or strategies to improve
[9:40] John's territory sales planning dos and don'ts
[12:42] Match your domain expertise with your ideal customer
The ideal territory sales plan
It's no secret that the top salespeople are great planners. They routinely run a SWOT analysis and look at their strengths, weaknesses, opportunities, and threats. It's a key strategic planning tool. You also need to identify your target and objective. Your company may give you an objective but you're the boss of your own business. You certainly need to plan for what your company expects from you but why not shoot for more?
Put the quota aside. What do you need to do to achieve your objective? Then look at your territory—identify where opportunities are likely to be. What 20% of accounts will get you 80% of the value? Secondly, look at your ICP. Who are they? Do some research, identify them, and focus activity on them alone. If you don't have a plan you grab onto the first opportunities that come your way. You'll find that you've filled your pipeline with average opportunities at best.
What is THE ideal territory sales plan? @JohnSmibert shares his unique approach in this episode of the @SalesReinvented podcast! #SalesReinvented #Sales #TerritorialSales #Planning #Strategy
Click To Tweet
John's territory sales planning dos and don'ts
John hears a lot of sales managers complain that they don't see the right level of activity from their salespeople. But if their salespeople have a plan in place that has been thought through strategically, less activity is sometimes good. But John nails down some dos and don'ts that can help you focus in the right place.
Set aside the time to create a detailed territory plan once a year. The annual plan needs to be broken down into quarterly, monthly, and weekly goals. You need to wake up every day and say, "What do I need to do to progress my plan?"
Know where you'll get the best results and focus on them. Focusing on the right 20% will get you 80% of the results.
Review, review, review. How do you stay on plan? What do you need to do?
Don't create a plan and forget about it. You've created it to help you stay on track to reach your goals.
Don't assume every customer is the same. Market segmentation and account targeting around your expertise is important. Everyone has domain expertise, so focus on customers who value what you have to bring to the table.
Learn how to say no. You don't want to chase every opportunity that comes through the door. The top salespeople say no far more than yes because they know where the value is.
Match your domain expertise with your ideal customer
John recently co-authored a book called "The Wentworth Prospect" about a young lady who progressed well in her sales career with the help of a coach. It's based on a true story about a woman John actually coached. This woman—named Sue—was selling cybersecurity solutions. She had learned the product well and had studied cybersecurity in university, so she had developed some domain expertise.
John asked her where she wanted to focus her territory. She stated her goal was to approach mid-level organizations but that she didn't have an industry chosen. So they did some research and landed on a focus in the banking and finance industry. Why? She had a background in banking. She knew she had a unique perspective to bring to the table, her product fit well, and they were an ideal customer.
In that year, because she eliminated 80% of her territory and focused on the 20%, she blew her quota out of the water. All because she created a plan that she followed diligently.
Why should you match your domain expertise to your ICP for the perfect sales territory plan? Learn WHY in this episode of @SalesReinvented. #SalesReinvented #Sales #TerritorialSales #Planning #Strategy
Click To Tweet
Resources & People Mentioned
Connect with John Smibert
Connect With Paul Watts
Audio Production and Show notes by
PODCAST FAST TRACK
https://www.podcastfasttrack.com
More About John Smibert
Are there any books on or including Territory Sales Planning that you recommend? I have read a few books on Territory Sales Planning but none that I would rave about. There are not a lot of books dedicated to this subject. There are however sales books that have a good chapter or two on territory planning or related subjects, Examples would include:  'High Profit Prospecting' by Mark Hunter (See Part II: Preparing for Prospecting Success and the early chapters in Part III) The CustomerCentric Selling by Gary Walker (Ch's 4, 5 and 6)
In the field of Territory Sales Planning – Who do you most admire and why? Luigi Prestinenzi has some very interesting and disciplined approaches to territory planning…Also one of my customers Dan Porter has impressed me more with his territory planning than most others. His approach is to research his territory to find the gems and then plan activity focussed solely on those gems. He might have a territory of 1000 names and will reduce that down to 20 and then plan with his full focus on just those for the next quarter. He then adjusts his territory plan each quarter replacing a few tarnished gems with some new shiny ones. He has proven that less is more by exceeding his quota by a large margin year in, year out.
Are there any aspects of your own Territory Sales Planning skills that you are working on improving at the moment? Nothing specific – just avoiding noise that will divert my focus.
Hobbies, Interests? Golf (I'm a tragic),  writing sales books like The Wentworth Prospect and publishing a weekly sales interviews on video (Sales Leader Forums channel on YouTube)
How can our listeners connect with you? Connect on LinkedIn with a message specifically about hearing me on the Sales Reinvented Podcast.