Episode #337 – Mike Inman
Knowledge is Power: The Importance of Negotiation Research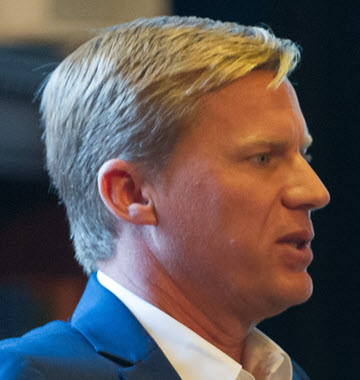 Mike Inman
What differentiates Mike Inman from other negotiation experts is he's an actual professional commercial contract negotiator with 15 years' experience negotiating Fortune 500 deals, 4 of which were in excess of $100 million. He's been teaching negotiations with NegotiationTraining.com by TableForce for the last 12 years globally, on 6 continents in more than 30 countries.
Our Mission Is To Change The Negative Perception Of Sales People
Our Vision Is A World Where Selling Is A Profession To Be Proud Of
As a former procurement professional, Mike Inman can guarantee that procurement comes to the table with a plan. As a salesperson, if you don't have a plan of your own—you'll end up following theirs. You should know the tactics you want to use, who is going to be in the meeting, what your BATNA is, and you must set an agenda. Knowledge is power, and you have to leverage it. He shares his take on "opposition" research in this episode of Sales Reinvented!
Outline of This Episode
[0:59] Why planning and preparation is an important step in negotiation
[2:06] The key steps a salesperson should take to prepare for negotiation
[4:09] The attributes or characteristics that make a great sales negotiator
[5:04] Don't be afraid to leverage LinkedIn to do your research
[8:33] Mike's top three negotiation planning dos and don'ts
[10:50] The importance of opposition research in a negotiation
The key steps a salesperson should take to prepare for negotiation
What's happening on your side of the table? For every deal point, you must have an open position target and bottom line. After you know what you can and can't do, spend twice as much time on opposition research.
This can even help you determine if they've already decided in your favor—or not in your favor. If you find out that you're not their preferred solution for a product or service, you can stop wasting time and cut your losses.
Lastly, get approval in advance. There's nothing more frustrating than a salesperson that has to run things by their boss. Then you're just an order taker. You'll get abused. Make sure that you're authorized to make concessions or close a deal.
Don't be afraid to leverage LinkedIn to do your research
Mike emphasized that LinkedIn is a person's billboard. They choose to publish where they're from, what they've studied, and what's important to them.
Mike just advised on a massive negotiation. He looked at the Director of Supply Chain's background on LinkedIn and it was clear that he was career-focused. He moved up the ladder with every job he took. Mike knew that this gentleman needed a win to continue to advance his career.
So Mke helped them build a negotiation plan to make him look good in front of his superiors while protecting value on their side.
Conversely, if someone isn't sharing information on LinkedIn, why are they hiding it? You can build a psychological profile from this angle as well. If they're not freely sharing information, they're a closed person. You'll likely have to ask more questions in the negotiation.
Mike's top negotiation planning dos and don'ts
Mike shares some to-the-point negotiation dos and don'ts that are spot-on:
Schedule time to plan your negotiation. Get it on your calendar and on the calendar for whomever you need approval from.
Set an agenda for planning and don't wing it.
Negotiate the agenda with the other side.
Don't wing it or you'll lose.
Make assumptions. Make assumptions and test them with good questions.
Don't forget your timeline. People make the biggest concessions if they're nearing a deadline. Don't schedule a negotiation near your deadlines or at the end of the quarter.
Knowledge is power: Why research pays off
When Mike moved to Denver, he wanted to rent for a couple of years to make sure he liked the area. They decided they wanted to move over the Summer, so they started looking in January. By February, they'd been outbid on three homes.
So he set up alerts to be notified immediately when there was a new listing. One Saturday morning, a house came on the market that looked perfect. They showed up at the open house and it was perfect.
After doing some legwork, they determined that the house was overpriced. They put in an offer $4,000 below ask with the stipulation that the sellers must accept or deny the offer by Monday at close of business. Monday at noon, they got an email that they won the house.
But there was a huge mistake. The seller accidentally sold the home to two buyers. The agent told Mike that they were "aging" and "didn't understand technology" and made a mistake. So Mike did some more research. Turns out, the seller worked for Cisco as a Government Contracting Expert.
The agent lied to Mike. So Mike pushed back. The agent responded with their lawyer's contact information. So what happened next? Mike unwraps a fascinating story that was only possible because he did opposition research. Listen to the episode to hear the ending!
Resources & People Mentioned

Connect with Mike Inman
Learn More About Mike Inman
Are there any books on or including Storytelling that you recommend? Not at the moment, I'm working on one myself. I do have a story about Chris Voss' "Never Split the Difference" though. FBI negotiators are the best in the world, if my family were in peril, I'd call Chris and beg him to lead the negotiation. But crisis negotiations are very specific, if Chris brings home an arm it's bad day… In commercial negotiations, though we try to make it an exception, there are times when splitting the difference is efficient and effective.
In the field of Business Story Telling – Who do you most admire and why? Who do you most admire and why? Right now it's Phil Brown – The Negotiation Club. He's developing clubs that get to practice their skills in a very effective, fun environment.
Are there any aspects of your own Story Telling skills that you are working on improving at the moment? Having discipline… the longer I've been doing it the harder it is to resist the urge to wing it…
Hobbies, Interests? Traveling with family, learning
How can our listeners contact with you? Mike@TableForce.com, https://www.linkedin.com/in/negotiatormike/
Share This Episode, Choose Your Platform!