Episode #349: Joanne Black
Always Ask for Introductions and Intel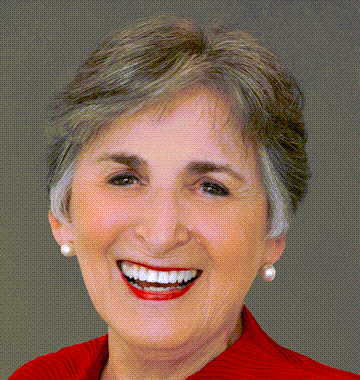 Joanne Black
Joanne Black is known as America's leading authority on referral selling—the only sales strategy guaranteed to produce a qualified pipe and convert prospects to clients well more than 50 percent of the time. Joanne works with sales leaders and their teams to build a referral culture, fuel growth, and drive revenue. She is a member of the National Speakers Association and speaks at sales meetings and conferences with her signature talk "Referrals Are Retro: How to Build a Referral Culture in a Digital World." Joanne is the author of No More Cold Calling™: The Breakthrough System That Will Leave Your Competition in the Dust, and Pick Up the Damn Phone!: How People, Not Technology, Seal the Deal.
Our Mission Is To Change The Negative Perception Of Sales People
Our Vision Is A World Where Selling Is A Profession To Be Proud Of
How do referrals work in the context of selling? When should you ask for referrals during the sales process? According to Joanne Black, when you close a deal, ask for a referral. They've signed on the dotted line and they believe in you. And when you ask, get intel. Learn as much as you can about the people they'll refer to you. What else should you do? Find out in this episode of Sales Reinvented!
Outline of This Episode
[1:28] What are referrals? How do they work in sales?
[2:27] Common mistakes and how to avoid them
[3:29] Why people—not social media—generate referrals
[5:47] Advice for someone exploring referral-based sales
[6:55] How to measure the success of a referral program
[8:06] The right way to ask for introductions
[10:31] The role of technology in referral selling
[11:20] Top 3 referral selling dos and don'ts
[13:22] Leverage the relationships you have with clients
Common mistakes and how to avoid them
Don't ask for a referral via LinkedIn or email. You need to ask during a conversation. Why? You don't just want an introduction. You want intel. You want to find out how your client knows this person, what they're like, and what you need to know about their business. This is the type of thing you won't learn from LinkedIn.
You cannot automate relationships. Asking for a referral is the most personal kind of selling you can do. You're putting your reputation on the line. Your job is to educate your referral source on how to make the best introduction.
Advice for someone exploring referral-based sales
Who are your best connections? If you've been in sales for a while, educate yourself. Learn what works and what doesn't. If you're new to sales, ask people you know for an introduction. Ask clients or coworkers from a previous company. People refer people—not companies.
When you ask for an introduction, make sure your client feels appreciated. If someone you know, like, and trust asked for help, would you help them? Of course. Tell your clients you are strategically building your business with referrals.
During the sales process, you are developing relationships. When you have the relationship, you can make the ask. You can even ask when the deal is signed, even without results after the implementation.
Leverage the relationships you have with clients
When Joanne founded "No More Cold Calling" 26 years ago, her first client was a medium-sized firm. She was working with the management team on a customer satisfaction survey that they'd be sending to 50 of their best clients. One of the questions Joanne made sure was included was, "Would you be willing to refer us to others?" On a scale of 1–7, they averaged 6.5.
She shared that with the management team and said "They'd be happy to refer people to you, why aren't you asking?" Sadly, they weren't interested in asking for referrals. 
When you ask for referrals, you'll get meetings. The conversion rate is far higher than 50%. It decreases the cost of sales. The challenge is that people don't want to change. Too many companies revert to technology, not relationships. 
Learn More About Joanne Black
Are there any books, podcasts, or classes on Referral Selling that you recommend? 
Books: No More Cold Calling: The Breakthrough System That Will Leave Your Competition in the Dust
Pick up the Damn Phone: How People, Not Technology, Seal the Deal
Bill Cates: Get More Referrals Now and Don't Keep Me a Secret
How can salespeople track and measure the success of their referral program? 
Track activity metrics: How many people asked each week, (Minimum is one), number of referrals received, number of meetings conducted, and then put into the CRM, as a qualified lead…or not. These metrics must be linked to the KPIs of each person.
There must be a result metric. It could be a revenue, new project, new client, or new vertical number. 
What are some common reasons why customers may not provide referrals, and how can salespeople overcome these obstacles? 
You didn't deliver
You didn't build strong enough relationships during the sales process
What is the difference between a referral, an introduction and a lead? 
A referral is an introduction. Without an introduction, the outreach is ice cold.
A lead is a prospect who's been qualified by the salesperson.
How do you determine which customers to target for referrals, and what are some effective strategies for reaching out to them? 
Target the clients where you have the best relationships and where you delivered quantifiable results.
Reach out in a phone/zoom call or an in-person meeting. NEVER ask for a referral over email or social media.
What are some potential risks or downsides to relying heavily on referrals for new business, and how can sales teams mitigate these risks? 
There are no risks or downsides, but salespeople must take action and not wait for referrals to come in.
Finally, what advice would you give to salespeople who are looking to launch a referral program or improve their referral generation skills?
You must invest in yourself. Referrals don't just happen, at least not at scale. 
Start with the outcome you expect; your strategy
Then define the metrics—for the company, the team and individuals.
Build skills in referral selling and include reinforcement and coaching.
Ensure accountability for results.
Share This Episode, Choose Your Platform!