Episode #375: Andrew Jenkins
Compelling LinkedIn Profiles Lead to Conversations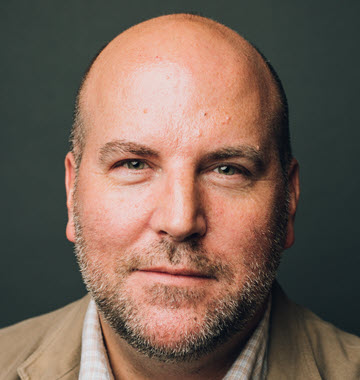 Andrew Jenkins
Andrew Jenkins is the Founder and CEO of Volterra, a social media marketing agency. He has taught social media strategies for enterprises at the University of Toronto's School of Continuing Studies for the last ten years. He is also the author of Social Media Marketing for Business: Scaling an Integrated Social Media Strategy Across Your Organization. 
Our Mission Is To Change The Negative Perception Of Sales People
Our Vision Is A World Where Selling Is A Profession To Be Proud Of
Andrew Jenkins offers LinkedIn and social selling training. During training, he advises participants to look at their time on LinkedIn from two perspectives. 
Passive: This is how you present yourself through your profile.
Proactive: How you navigate the platform.
You need your profile to convey who you are, what you do, and how you help. You need to make sure your profile is supporting your efforts. 
But it isn't just about your profile. People see success when they engage in conversation. So how do you build a compelling profile and drive people to it? Andrew shares his tactics in this episode of Sales Reinvented. 
Outline of This Episode
[1:01] Is a compelling LinkedIn profile important?
[1:43] The elements to leverage on your LinkedIn profile
[3:31] How to tell your professional story on LinkedIn
[5:21] Balancing professionalism and personality
[7:32] How often should you update your profile?
[9:57] How to measure the impact of your LinkedIn profile
[12:03] Andrew's top LinkedIn profile dos and don'ts
[14:14] Don't be afraid to start conversations 
The elements to leverage on your LinkedIn profile
Most people look at LinkedIn on their phones, which means you have to catch their attention immediately at the top. The "combo meal" is your banner, headshot, and a provocative headline to garner someone's attention. Let the banner speak to who you are and what your values are. It puts a stamp of personality on your profile. 
No one cares if you're a "quota-crusher." They want to know the value you provide. So make sure you convey how you help them with your messaging and visuals. Use a headshot that conveys trustworthiness and professionalism.
Spend time building a robust profile. Don't set something up without a headshot or an about section. You're in a war for attention. Make sure you win. 
How to tell your professional story on LinkedIn
LinkedIn is the most media-rich electronic business card you could dream of having. How much can you say about who you are, what you do, and how you help to get someone to engage with you? Any content you write should be written in a conversational tone. Avoid using jargon. Don't keyword stuff your keyword section to game the system. 
Secondly, what content do you share regularly? Does it inform and educate? You can mix in some promotional things and a bit of humor. 80% of the content you share should be educational or helpful. 10–20% of the time can be promotional—but you have to earn the right.
Andrew's top-performing piece of content from over the last year was humorous. He asked ChatGPT to write a viable social media strategy in Gen Z slang. People loved it and it drove engagement. You can subtly weave in what you do for a living. 
How to measure the impact of your LinkedIn profile
Andrew wrote a book, so he changed his banner image to highlight it. He changed his headline to reflect authorship. He also placed a link below his headline sending people to the Amazon landing page for his book. You could also send people to a case study or landing page for a webinar. But how do you measure if these things are having an impact?
Check your analytics to see who's viewing your profile. Are they your target ICP? How is your content performing? Are people sharing it and commenting on it? What type of post is getting the highest engagement? Andrew recommends using Shield Analytics for more insight. 
Don't be afraid to start conversations 
15 years ago, Andrew connected with someone in the UK on LinkedIn. He reached out and asked if they could talk about the work they do at their organization. They had a great phone conversation and kept in touch. 
Andrew reached out some time later and asked for advice on getting companies in the UK to outsource professional services to Canada. This connection not only had a suggestion but also had a project for Andrew. Andrew was hired to research and become a social media expert. That connection changed his life. It led to the company he's run for the last 15 years. 
Reach out to people. The worst they can do is not respond. You never know where the conversation will go. 
Resources & People Mentioned
Connect with Andrew Jenkins
Learn More About Andrew Jenkins
Are there any definitive guides or resources you recommend for crafting an effective LinkedIn profile?" I would start with LinkedIn. They share resources all of the time. Blatant plug here but I devote a chapter to LinkedIn and personal branding in my book.
In the realm of LinkedIn branding and sales, who do you most admire and why? Timothy Hughes from DLA Ignite, Tyler Lessard from Vidyard and Will Aitken from Lavender.
What are your top ten tips for someone looking to optimize their LinkedIn profile for sales – your golden advice set? Make your profile a resource for visitors. It should be helpful, informative, and add value. It is the most media-rich business card you can dream of having, so make it a digital outpost for your personal brand. Starting from top to bottom:
1. Banner Image that grabs a visitor's attention while still being aligned with the business you are in
2. A professional headshot
3. A headline that tells people who you are and the value you provide
4. Make sure your About section or summary capture people's attention in the first few lines that get displayed
5. Share helpful content from your company, content you made yourself or that you grabbed from other sources so you become a trusted resource for valuable information
6. Add media such as video, documents and presentations
7. Refresh elements regularly to incorporate new information and content
8. Reach out to people who visit your profile
9. Welcome new followers
10. Invite people to follow you via signature in your posts and your email
What are the primary considerations that companies should be aware of regarding their employees' representation on LinkedIn? Their employees own their LinkedIn profiles, so they can't command employees to use their profiles on the company's behalf. They can only encourage them, but if they are in sales, then it becomes somewhat necessary. Ideally, profiles should exhibit brand consistency. They should include a standardized description of the company, but each employee should be free to tailor their own About Section for Summary. There should be a social media policy in place so everyone knows what they should and shouldn't do when it comes to their activities on social media. If they work in regulated industries, the company may wish to implement a compliance solution to mitigate risks.
Do you believe companies should provide specific training for employees to utilize LinkedIn effectively? Should this be a standard part of a salesperson's induction/onboarding process? Yes, absolutely. There has been a rise in spam and poor etiquette on the platform. Salespeople are acting as ambassadors for the company. Training would ensure that they are behaving appropriately and not doing anything to tarnish the company's brand.Y
Can you share some case studies or examples of how a well-crafted LinkedIn profile has significantly impacted a company's sales or networking capabilities? One particular example comes to mind. A couple of years ago, my headline said, "Agencies: Ask me about our white label program," and someone did, and they have been a client for two-plus years.
LinkedIn is constantly evolving. Are there any new features or strategies that you're currently delving into or recommend sales professionals should explore? Leverage the bell icon to invite people to follow you. If you are using Sales Navigator than track activity of our prospects looking for opportunities to comment and engage.
How do you balance showcasing your hobbies and interests on LinkedIn, ensuring it complements your professional brand? I do keep things professional, but I like to incorporate humour periodically. My best-performing post in the last year was a humorous post. You can be funny while still being professional. Furthermore, when you think about that last piece of content that engaged you, it was probably funny.
For listeners eager to learn more, what's the best way to connect with you on LinkedIn or other platforms? Follow me. If you want to connect then great but please take two minutes to tailor your message so that I know you are human and not an automated tool spamming my inbox.
Share This Episode, Choose Your Platform!