Episode #171 – Meridith Elliott Powell
Increase Your Productivity to Improve Your Sales Performance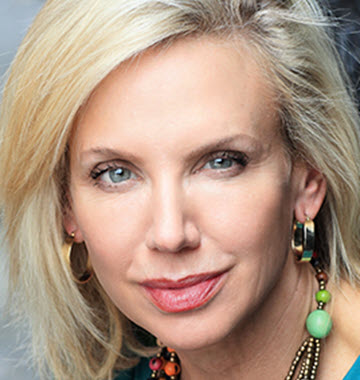 MEET
Meridith Elliott Powell
Meridith Eliott Powell was voted One of the Top 15 Business Growth Experts To Watch, Top 50 Sales Speaker, and Top 40 Motivational Speaker, Meridith Elliott Powell is a business growth strategist who helps her clients learn the strategies they need to turn uncertainty to competitive advantage. Meridith is the author of six books, including her latest Cut Through The Excuses & Send Sales Through The Roof, Top 50 Sales Book for 2019. When she is not working, Meridith can be found hiking her favorite trail, riding a mountain bike, or endlessly chasing little white balls on golf courses round the country.
Are you ready to improve your sales performance? There are so many factors in play that affect reaching your quota, but something you can easily start to remedy is your productivity. What can you do to drive your progress? How do you improve your productivity? Meridith Elliot Powell answers these questions and more in this episode of Sales Reinvented.
Meridith is a business growth expert, motivational speaker, and successful author. She understands the constantly changing economy and knows how to help you grow your business. One way to accelerate growth is by making sure your salesforce is as productive as possible. Be sure to listen to this episode to hear her advice!
Are you ready to increase your productivity and improve your sales performance? @meridithpowell joins Paul in this episode of @SalesReinvented to share her productivity tactics! #SalesReinvented #Sales #Productivity
Click To Tweet
Outline of This Episode
[1:05] Meridith Elliot Powell on productivity
[2:10] Why aren't they productive?
[2:55] How to improve day-to-day productivity
[4:30] Attributes of a productive person
[6:05] Tools and resources she recommends
[8:00] Top 3 Do's and top 3 don'ts
[9:45] Meridith's favorite productivity story
Don't romanticize past success
Everyone has their own philosophy on the sales process and what works for them. More often than not, those strategies are based on what worked in the past. Meridith states that you must stop living in the past. What worked then won't always be the best strategy for the here and now.
The marketplace, customer, and competition are constantly changing.
So you must grow and adapt with those changes. Behaviors drive results. So you must decide which ones move you forward. If romanticizing past success is holding you back from reaching your goals, it's time to move on.
@meridithpowell joins Paul in this episode of @SalesReinvented to talk about productivity. Her #1 tip? Don't romanticize past success. Check out this episode to learn more! #SalesReinvented #Sales #Productivity
Click To Tweet
Reflection is the best preparation
Meridith believes improving day-to-day productivity begins with reflecting over your week. Every Friday, she takes time to look at the last four days. She recommends looking at your emails, phone calls you made, proposals you wrote, and even networking events you attended.
What moved the ball forward? What didn't?
You are your efficiency expert. You must be the one to look at your week and make adjustments moving forward. Meridith knows she is more productive when she takes 15-20 minutes to keep herself accountable to move towards her goals. That means eliminating activities that don't.
The marketing team isn't working against you
Sometimes it's hard for sales professionals to recognize or admit that the sales process truly begins before salespeople ever connect with a potential customer. Customers Google, they do research, and likely know about your business or product because of your marketing team doing their jobs right.
Let marketing do the heavy lifting and provide the data you need. That allows a sales professional to do what they do best—build relationships. Salespeople are the ones who bring emotional intelligence to the process. Remember that the marketing process doesn't steal your leads, but softens them for the sale.
Don't fight tools that will help you
Meridith loves every part of the sales process. She is very outgoing and loves the thrill of the hunt. Because she was very good at what she did, she fought every tool or resource ever introduced to her. She was meeting her goals, so why did she need them?
When forced to implement a system of questions to gather information, she found out how wrong she was. She thought she knew everything about a long-time client. But after she had asked the required questions, she realized she missed important and necessary information.
From that moment on, Meridith became a staunch advocate for embracing a CRM and any tools or resources that would propel her towards her goals. The moral of the story? Keep your ego in check. She continued forward and consistently closed $1 million a month in sales.
To hear in full detail her productivity process make sure you listen to this episode in its entirety!
To become a productive salesperson, you need to stop fighting tools designed to help you. @meridithpowell delivers this piece of advice—and much more—in this episode of @SalesReinvented. #SalesReinvented #Sales #Productivity
Click To Tweet
Resources & People Mentioned
Connect with Meridith Elliot Powell
Connect With Paul Watts
Audio Production and Show notes by
PODCAST FAST TRACK
https://www.podcastfasttrack.com
More About Meridith Elliott Powell
What was the last book you read?
the Greatest Salesman
Who / What inspires you?
Being outdoors, nature, I am major lover of our National Parks and being there inspires me

Are there any aspects of your own productivity skills that you are working on improving at the moment?
heck yeah – process' and systems – I need more of them, want more of them
Hobbies, Interests?
My goal is to be mediocre at everything outdoors and i have achieved it—skiing, golfing, hiking, cycling, tennis—the list goes on. I am also a big reader in several book clubs. I love to read and discuss.
How can our listeners contact with you?
My Website or any social media channel. I live on LinkedIn.